Genius!
All in all a FANTASTIC read for anyone,
but especially for those of us wanting to travel with our kids.

Ever dreamed of quitting your job and
traveling the world for a year?
Why not bring the family along?
But watch out! You'll discover more than just food and culture. You'll learn that:
A Chilean mall isn't the best place to get your ears pierced.

Elephants appreciate flowers just as much as the next lady.

A broken leg doesn't have to end your journey.
Praise for 360 Degrees Longitude
John Higham's fascinating trip around the world with his wife and young children inspired not just this beautifully written travelogue, diving and dancing and dizzying with adventure - from nipple-nibbling fish in Thailand to getting stranded in Tanzania - it also launched an insightful journey into how travel can transform us, heal us, soothe us, and deeply bless us with JOY of the richest kind: Joy that opens our eyes and our souls; joy that teaches us to hold hands across the horizons.
John Higham's book about his year around the world with his wife September and their two kids, Katrina and Jordan, is funny, surprising, honest, and inspiring. Their spunk and humor as they cope with everything from a broken leg in Switzerland to a broken-down truck in the middle of the Bolivian salt flats are amazing to behold. But what I really love about the Higham family is how normal they are. They prove that average people can have outsize adventures if they dream big, plan carefully, and have faith that even if nothing goes according to plan, everything will (eventually) turn out OK. These are great lessons for traveling and for life.
360 Degrees Longitude redefines family travel. It's also a fantastic read, whether you're considering an around-the-world trip-with or without kids-or not. Higham uses humor and insight to weave together stories that entertain as well as educate. Part travelogue, part how-to guide, the book is an inspiration-for what is possible on the road, and in one's life.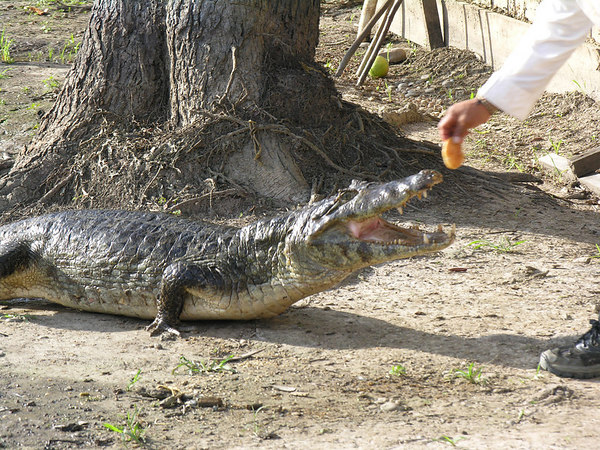 Meet Plastico, the flesh-eating alligator of the Amazon!  Some people swear he's a crocodile, others think he's a caiman, but one thing's for sure…he's hungry! Learn how to plan a round the world trip, and about round-the-world travel with kids.