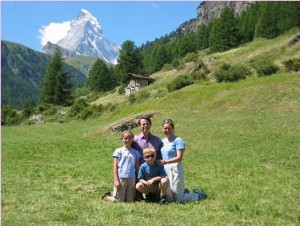 This is our family in Zermatt, Switzerland. You can see the Matterhorn in the background. Looks just like Disneyland, doesn't it? We were hiking in the mountains and asked a passing hiker to snap this photo of us – we planned on using it for our Christmas cards. We were headed for a mountain playground we had come across a few days before. At this point in the trip we had been traveling for just six weeks.
So much fun!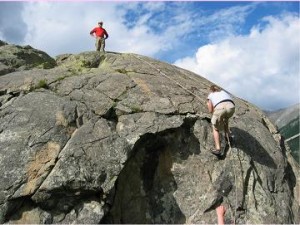 This particular playground was in a tiny village in the mountains – a village with just a few houses and a small restaurant. In the playground was a giant boulder with ropes permanently attached to it. The kids loved to climb up and down this boulder, holding onto the ropes. It was so much fun, until…
Not so much fun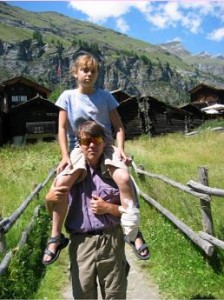 …Katrina was rappelling down the boulder and the rope broke. She came tumbling down to the ground and reported that she could no longer walk. Zermatt doesn't allow any cars, and so I carried her down the mountain trail for 45 minutes until we reached the town. You can see the tiny village in the background of the picture.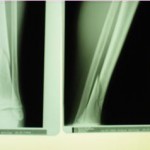 Some townspeople helped us find the doctor's office, and we learned that Katrina had broken her leg – take a look at the nasty fracture in the tibia!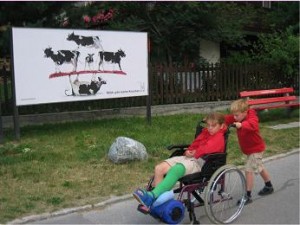 Katrina had also badly sprained a wrist so she couldn't walk on crutches. We borrowed a wheelchair from the town's nursing home.
We had been cycling and camping up to this point in the trip, but camping just isn't practical with a broken leg. We rented an apartment in Zermatt for a week until Katrina's wrist healed enough so that she could walk short distances on crutches.
Plan B, Cesky Krumlov, Czech Republic
It was clear that our cycling had come to an end. We couldn't afford to stay indoors in Western Europe, so we headed to the Eastern Europe where we could afford to stay in hostels. Katrina couldn't walk very far on crutches and it was difficult to find a wheelchair in many towns, and so I ended up carrying her on my shoulders for most of the summer. If you look closely you can see that Katrina still has a brace on her wrist.
Rushing through the train station
Imagine trying to transfer trains in 5 minutes with four suitcases, two backpacks, and a child who can't walk! We learned to be very flexible about how we got from place to place.
Visits to doctors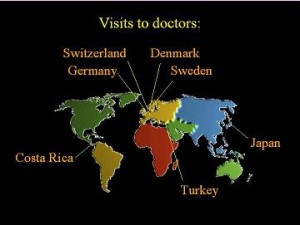 Over the course of a year we ended up visiting doctors in many countries. Because of Katrina's broken leg we saw doctors in Switzerland, Germany, Denmark, and Sweden. We had to get Hepatitis-A booster shots and fill a prescription in Turkey, and in Japan Jordan developed asthma so bad that we had to take him to see a doctor. By the time we reached Costa Rica it was time to have the kids' teeth cleaned, and so we found a dentist that spoke English and catered to foreigners. In some of these countries the doctors and hospitals didn't charge us a cent. "Just have a nice trip!" they would say.