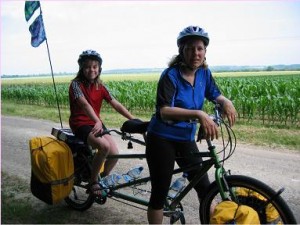 We started our journey by spending a few days in Iceland, and then our goal was to cycle from London to Istanbul. We have two tandem bicycles; you can see that all of our things are in bicycle panniers, covered by yellow rain covers. We never had quite enough room for our stuff – notice the box of cereal strapped to the back of the bike! This picture is taken in Normandy, France.
Subway in Prague, Czech Republic
We didn't make it all the way to Istanbul by bicycle – that story will come in a bit. When we were no longer traveling by bicycle, we often traveled by train.
Bus station in Mombo, Tanzania
In much of the world, there are no trains. Especially in the developing world, most long-distance transport is by bus. This is a typical bus station in Tanzania. As soon as the bus stops, vendors selling snacks rush up to the windows to try to make a sale. These vendors are selling hard-boiled eggs, fruit, and other things to eat.
Landing in the Amazon Basin, Bolivia
Occasionally we traveled by small plane. We've just been dropped off at a small airstrip in the Amazon Basin in Bolivia. You can see the passengers' luggage being unloaded from the plane.
"Tuk-tuk" in Siem Riep, Cambodia
Tuk-tuks are the transportation of choice in much of Southeast Asia. Tuk-tuks are absolutely amazing. Here is a 90-cc motorcycle hauling its driver as well as five passengers! (I'm taking the picture here.) The additional person in the tuk-tuk is September's mother, who came to visit us for a month in Thailand and Cambodia.
On a Trek in Northern Thailand
Once we even traveled by elephant. Katrina managed to make friends with this elephant before she traveled on it – she spent a lot of time chatting with it and bringing it bouquets of weeds. It definitely paid off – Katrina and Jordan's elephant treated them very nicely on the whole trip, whereas the elephant that was carrying the parents did everything he could to get rid of us, such as walking under low branches and picking up trunkfuls of dirt and spraying us with it. I think Katrina taught us a good lesson here!
"The Cruise Ship of Pain"
Yangzi River, China
Our family has always wanted to go on a cruise, and here was our chance! We signed up for a cruise on a boat designed for local Chinese tourists, and I'm not sure we were quite ready for the standards of the ship. We splurged and got a cabin with a bathroom in it, but unfortunately, every time we would flush the toilet, water would come spraying out of the ancient plumbing, covering the walls and floor with water. We kept missing mealtimes because all of the announcements were in Chinese, and though it was the middle of a very frosty December, there was absolutely no heat on board.  After returning home, we learned from one of our Chinese neighbors that in China, it is forbidden for anyone to heat their home south of the Yangzi river.  I guess this cruise ship wasn't taking any chances!
Cargo Ship to the
Southern Tip of South America (Chile)
Another way we traveled was by cargo ship. We took this cargo ship to the southern tip of South America, through the fjords of southern Chile. Not only was it cheaper than flying, but we got to experience the legendary rough waters near the Strait of Magellan. We ended up staying on this cargo ship two more days than planned because the ship was unable to cross the rough waters at various times in our journey. Take a close look at Katrina and Jordan: long before this point we had traded in our bicycle panniers for actual suitcases.
Salar de Uyuni, Bolivia
Sometimes the best way to get from Point A to Point B is to hire a driver and a vehicle. This truck is called a Unimog, and is made by Mercedes-Benz. In this picture were are on the salt flats of Bolivia. At certain times of the year the salt flats are covered with a few inches of water, making some spectacular scenery. When we were in the capital of Bolivia, La Paz, I had contracted with a guide named Patrick to take us over the Andes mountains into Chile. We worked out an arrangement in which Patrick would provide all of our meals along the way. Patrick had been an investment banker in a previous life, and September was rather distrustful of his skills as a guide. She remarked, "What's he going to do if we get into trouble? Put in a sell order for 1,000 shares of Microsoft?" She announced one afternoon in La Paz that she was going "shopping," and she came back with a mountain of food for our journey. We didn't really need the food, as Patrick was supposed to provide it, and so to make fun of September I started calling the food our Armageddon supplies, to prepare us for some end-of-the-world scenario. In these food supplies were some large bags of peanut M&Ms, and so these became known as our Armageddon Pills. It turns out that we did need the food – we got stranded out on the salt flats and ended up relying on those peanut M&Ms for sustenance. In honor of September's cunning, I've named the chapter in the book that tells this story "Armageddon Pills."
Amazon Rainforest, Bolivia
Another method of travel was by canoe. We are on a tributary to the Amazon River in this picture. There are no roads in this region, and so the only practical method of getting from place to place is by canoe. This is our guide, Rene, who deemed me a hopeless city-boy, and insisted on calling me John-Rambo.