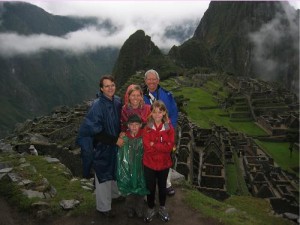 So. You think you would like to do a year around the world but don't know where to start. You've come to the right place.
I don't think any one book or any one person can tell you how to plan and execute a trip of this magnitude.
Further, there is no way you can plan a trip like this in detail as you might a two-week vacation. Get used to the idea that trying to find accommodations at your next destination is your full-time job.
As with almost everything, the more you know about something, the more there is to know. By far the best advice is simply, "Don't panic."
That said, here is my advice.

The number one question people have, but are often afraid to ask is, "How much does it cost to go around the world?" The quick and easy answer is that I don't see how it can be done for less than $30,000 per person.
Our total cash outlay was $121,275.89 for four people. OK, so I'm a bit obsessive about numbers. We also spent $29,971.60 before we even set a toe on a plane. Wow! That sure is a lot of money to spend before you even start! That's what we thought, too, but we had to take care of several up-front costs, such as plane tickets, equipment, clothing, vaccinations, and medical insurance.
Thirty-thousand dollars per person seems like a lot of money, too. It is, but there is very little "air" that can be squeezed out of those figures. For example, we spent less than $100 on souvenir shopping for the entire year.
Methods to reduce costs would be to reduce the number of countries visited, or travel by bicycle, as getting from point "A" to point "B" was one of the biggest line items in our budget. We were very thrifty when it came to food and accommodations. Unless you can eat just bread and peanut butter and sleep outdoors full-time, it isn't possible to travel much cheaper than we did.
Of course nothing is as simple as entering in a number in a spreadsheet, which begs the next question…

We came up with our budget by taking a four-week trip to the most expensive place we planned on visiting during our world tour: Switzerland. We took this trip three years before our estimated departure, partly to assist us in understanding costs, but also to understand our equipment needs, and how we reacted as a family traveling together.
From that trip we obtained a good estimate of the costs associated with traveling for a month, which we could adjust for inflation and changing exchange rates, and then extrapolate out to one year.
More importantly, the costing exercise was specifically for the kind of traveling we planned to do, which will be different for different tastes, budgets and styles. Some people drive Toyotas, and others Jaguars. We're Toyota people. One can't expect to stay at five-star resorts for 12 months on $30,000 per person.
That one-month trip to Switzerland served as a basic building block of our budget, and we determined that we needed about $5,000 per month in "living expenses" on the road. Our actual expenses for our year-long trip ended up averaging $6,500 per month. The difference between projected and actual was made up largely by the abysmal performance of the dollar when we hit the road and after a while, we needed to start eating and sleeping better than we had been.
There are, of course, lots of other line items on the budget that need to be included, other than monthly living expenses. For example, the cost of maintaining real estate at home was a very big line item for us, and is not included in the numbers I have quoted. Even though we rented our house out for the year, there were still some significant expenses, such as property taxes, that we had to cover.
Here is a rough breakdown of our expenses for the year:
Plane tickets for four people: $30,000
Overland day-to-day expenses
($6,500 per month): $78,000
Medical insurance: $2,600
Equipment, clothes: $2,500
Children's books, guide books (incl. global shipping): $2,000
Storage for household items: $4,000
Immunizations: $2,000
Total: $121,100
OK, if you're good at on-the-spot math, you'll be wondering where the extra $175.89 went. I can't tell you for sure, but it probably went into the cash register at various Chili's locations worldwide for Molten Chocolate Cake.
BudgetYourTrip.com is a great resource to use when trying to develop your own budget, and see how it stacks up against others who have visted the same areas you are planning to visit.

Clothing
You seem to have enough clothes to wear at home, so why should you need to spend a lot of money on clothes for a trip? We started our trip on bicycles and expected to be on them for many months, so believe me, the one pair of shoes and the one pair of pants and the one sweatshirt and the one windbreaker all had to be the lightest, most durable variety we could find. Of course, all this "lightweight" clothes buying was completely negated by our mobile library.
Real Estate at Home
Property taxes don't go away. Neither do leaky roofs. The cost of maintaining a residence may tempt you to sell your house, but we're glad we didn't. September's parents helped with the home maintenance logistics while we were on the road, and despite the expense of keeping the house, it was great to have somewhere to come home to.
Mailing Packages To Yourself From Home
Who would have guessed that a box of books sent FedEx to Panama City would cost $400? Not all of our shipments were that expensive, but as a rule of thumb, keep in mind that shipping a book, even by good ol' air mail, costs roughly the same as buying a book. Don't bother shipping books by surface mail. Those boats are mighty slow. Jordan continually sent home his 100-page self-authored comic books to Granny via "surface" and as a rule it took over six months.
If you like to buy souvenirs, you'd better budget a whole bucket of money to send those souvenirs home.
Storage Space
Even if you don't have a house to worry about, your mom probably doesn't want to dedicate a room in her house for your CD collection and old college T-shirts.
In preparation for leaving, we sold one of our cars and got rid of our worst furniture, such as the dresser that September found next to the dumpster during college that was still a staple in our bedroom decor. The Toy Removal Fairy fluttered in late one night and significantly thinned out the junk that breeds in the toy closet. We rented a 15-by-20 foot storage unit and moved all of our household belongings into it. Just hours before we boarded the plane, we drove our one remaining car into it and shut the door.
When we returned a year later, we realized that we had been overly aggressive in getting rid of "stuff." That old Toyota that we sold sure would have come in handy, as we didn't have the money to buy a second car for many months. Too bad about that dresser, too. Cardboard boxes aren't nearly as handy as that monstrosity found next to the dumpster – who cared what it looked like? And of course the kids demanded to know where every tiny plastic gizmo they had found in their McDonald's Happy Meals had gone.
Equipment
In the weeks prior to our leaving, I think we became our local REI's favorite customers. The best investments by far were a new lightweight tent, tropical-weight sleeping bags and silk sleep sacks. Even though they took up a lot of space in our luggage, we sure were glad we had them. When we were no longer camping the sleeping bags and silk sleep sacks were still worth their weight in gold so we wouldn't have to sleep in 50 years of dust, as you might find in some of the bedding in less-elegant hostels.
We spent a significant amount of money on bicycle panniers, and then later suitcases, and let's face it, if you're going to be schlepping them all over the world, you do really want luggage that is durable. Durable does not have to mean top-of-the-line, though. Every time we considered purchasing something for our trip, we asked ourselves, "How would we feel if this were stolen?" We were careful not to over-spend, because the reality of travel is that many people do have their backpacks or suitcases disappear. This was one reason we brought only a very small camera, no laptop, no GPS and no satellite phone. On the Christmas before we left, I bought my wife a plain gold wedding band with the words "World-The-Round-Trip" engraved inside so that she could leave her diamond ring at home. Remarkably, we never had a single thing stolen on our entire trip, but that was not the case with many of the people we met on the road.
One last word about "stuff." Before we left I had a long list of "stuff" that we had to buy that I thought I couldn't live without. When we were finally packing "for real" a lot of it got edited out and even more got left behind in various campgrounds during our first few weeks on the road. By the end of the year other than some simple clothes, my silk sleep-sack, and tropical-weight sleeping bag, they only thing I found that I was hoarding in my suitcase was plastic eating utensils.
The lesson is you can get by with very little and what you absolutely need, you can usually get on the road. And if you can't get what you absolutely need on the road, you will find you can do without that, too.
Books
Guide books are the single most important thing you will need to make your travel go smoothly. The problem is, you don't want to have to carry a year's worth of guide books with you all the time. They are really, really heavy! In many cases, we were able to find guide books along the way. Most big cities have at least one bookstore with a few books in English. In other cases, we had guide books sent to us from the U.S. along with our monthly shipment of books for the kids.
Typical guide books like Lonely Planet and The Rough Guide are good sources of information for a specific geographic region, but have no information for planning an expedition. One great source of practical information is The Traveler's Handbook (Globe Pequot Press). Now in its ninth edition, it is over 900 pages of information from how to respect local customs, to probable repairs for an overturned vehicle, to entry requirements for every country in the world. Some of the best information is about relative safety and general weather patterns listed per country.
Another source of information is www.wikitravel.org. At this writing it leaves a little to be desired for all but the most traveled places, but I have high hopes. If it takes off like I hope it will, it could reduce or even eliminate the need to bring guide books along on your journey.
If you will be traveling with children, and if your children like to read, keep in mind that there is nothing available in English for them overseas outside of a few obvious places, such as England, Australia, New Zealand, and South Africa. I take that back. You can find the Harry Potter series in English nearly everywhere, as it is popular among those trying to learn to read English. Other than that, you might be able to find Moby Dick in a bookstore in China, but trust me, your kids won't like it. Buy all of your children's and young adult literature before you go and arrange to have someone ship it to you. The good news is that nearly all juvenile literature is printed on cheap, porous paper, which happens to be fairly lightweight.
September ordered hundreds of dollars of books for the kids on Amazon.com before we left. She did a mountain of research and found historical fiction and other genres of literature that took place in the areas we were planning to visit. She separated the books into 12 piles, one pile for each month, roughly corresponding to the places we hoped we would be. Approximately once a month, we would send an email to September's mother letting her know where we would be in a few days, and she would FedEx a package of books to us. Sometimes we would have her send the books to a friend of a friend who was living in a city we were planning to visit, and other times we would have the books sent to a hostel or campground where we were going to be staying. It was always complicated to try and figure out where we were going to be a few days in the future, but getting the package of books was always worth it.
As we were traveling, sometimes the kids would get tips from their friends via e-mail on good books to read, or they would read Book 1 from a series and could not imagine going on living unless they could also read Books 2-7. In this case we would go on-line, order the books in question and have them sent to September's mom's house. Of course, the kids didn't like waiting a month or more for their sequels. You cannot believe the time we spent going from bookstore to bookstore in nearly every major city we visited looking for Book 4 (in English) of some obscure series. Please translate into Thai: "Do you have Book Two of the Eragon trilogy?"
What did we, the adults in the family, read? Well, we couldn't really justify the cost of sending ourselves a bunch of books, so let's just say that I am now familiar with every European princess that ever lived, every 12-year-old refugee who grew up to write a book, and every comic book character from Spiderman to Captain Underpants.
I will say all the effort and money required to purchase and ship all those books was worth it. The impact on each of us from reading The Red Scarf Girl, about the Chinese Cultural Revolution, was much greater when read in China than it would have been if read at home in Silicon Valley. As there can be l-o-o-o-ng stretches with nothing to do when traveling, I can't imagine doing it with kids that couldn't entertain themselves with a good book.

There are dozens of companies that specialize in around-the-world plane tickets. Googling the string "around the world plane tickets" will help you find them. Plan on at least $5K per person for airfare, and maybe even double that.
There is a product called an "around-the-world ticket" that generally allows you to travel around the world in one direction, make a specific number of stops and have flexible travel dates.
One problem we found with around-the-world tickets is that you cannot back-track. For example, the itinerary we laid out for ourselves had us flying primarily east, but occasionally we had to fly west. This isn't allowed on a typical around-the-world ticket; those flight segments would have been simply out-of-pocket.
Another problem with around-the-world tickets is that they are generally all on one airline or airline alliance. For example, if you buy your around-the-world tickets on United, you can't fly to Mauritius.
After doing much research on the subject, we finally committed ourselves to what are known as open jaw segments. Open jaw segments are a series of one-way tickets strung together connecting the dots on the globe you wish to visit. In the post 9/11 world, one-way tickets are hard to buy, so a good travel agent that specializes in around-the-world tickets is invaluable here. Again, Googling the string "around the world plane tickets" will help you find them.
With open jaw tickets you build your own itinerary and the only limitations are your budget and your imagination. The drawback is that you fix your travel dates in advance.
Ultimately we tired of having to hurry through a place to make our next travel date. When we flew into China, our flight in was to Beijing and our flight out was from Hong Kong. We didn't really know what we would find when we traveled overland between those two points. Of course that is the fun of travel, but what we found between Beijing and Hong Kong warranted several extra days. Too bad for us – our travel date from Hong Kong had been set months in advance.
Our open jaw flight segments that we had pre-purchased ended in San Jose, Costa Rica, and we were looking forward to the flexibility this would give us during our time in Central and South America. Then the reality of trying to get on the flight of our choice at the last minute came back to haunt us. As we tried to fly from Panama to Chile, we found that our options were either to spend outside of our budget, wait in Panama almost four weeks until cheap seats were available, or choose another destination. This is how we first came to Bolivia – because we couldn't get the flight we wanted to Chile.

We stayed at a lot of hostels. Hostels are not as cheap for a family as you may think, because they charge per person, but the fact that they usually have a kitchen helps control costs if you use it instead of eating out three times per day. In Europe, hotels charge per person as well, so we brought a tent and used it a lot until Katrina broke her leg.
Another way we controlled costs was by eating out of grocery stores as much as possible – even when we had no kitchen to cook in. During our time in France, we ate at a restaurant exactly once. Instead we went to the Co-Op everyday and bought apples, cheese, ham, a baguette and the two vegetables that we could eat uncooked and kept well in bicycle panniers – a carrot and a red pepper. We ate like this far more often than I care to remember.
Admission prices can add up pretty quickly when you have to multiply by four. I really wanted to go see Westminster Abbey in London, but it was going to be $100 for the four of us, so I took pictures from the outside and then we took the Tube to Kings Cross Station and had our pictures taken at Platform 9¾, which was free.
Four months later as we left Europe, I had seen so many cathedrals, abbeys and palaces I couldn't keep track of them and missing Westminster Abbey didn't seem so important.
The point is, you have to set reasonable expectations. You can't do everything. Decide what you want to do, and what you feel like you'd really regret if you missed. I looked at Europe as a whole and decided I would regret missing the Louvre and the Vatican – Westminster Abbey came in third. By contrast, the admission to those two former destinations combined is less than the latter, so the latter simply got bumped.

The easiest thing would be to marry well or arrange to inherit a trust fund. Failing that, plan on saving for years.
We started saving for this trip about ten years before we left. In those ten years we bought less expensive cars than we could otherwise afford and a smaller house than we could otherwise afford and we put the difference into savings.
Our kids heard us planning this trip since before they could talk. Our family mantra became, "Would we rather buy this, or go on our trip?" This applied even to minor expenditures such as clothing, not so much for the economic benefit as the psychological benefit that as a family, we were working toward our goal. Both kids became evangelical about cost cutting, sometimes to the point of being irksome, but it showed that we were united in our goal. In the end it was worth being scolded by an eight year-old for going to the occasional Giants game at AT&T Park.

As we planned our trip we looked into the entry requirements for every country we planned to visit to see if we needed to arrange for a visa before we arrived at the airport. There were only two countries with this requirement: China and Russia.
I wanted to go to Russia but timing was going to be tricky, because there were other places in Europe I wanted to see as well. Fitting Russia in to our travel plans was going to be tight. But when I considered this along with the visa requirements, I just couldn't see how we could make it work. The visas were $100 each, so I wasn't about to spend that kind of money if there was a chance we wouldn't be able to fit it in to our plans. The lead time it took to obtain the visa meant "popping into the country for a quick visit" when we were in the neighborhood was out of the question. Consequently, Russia got written out of the itinerary before we ever acquired plane tickets.
China was a different story. Visiting the Great Wall was simply one of those things we weren't going to miss. All the information we could find told us we had to get the visa before we left our home country, but the visa was only good for 90 days. Our flight to Beijing was well past 90 days after we left on our trip, so that meant we had to get our visa while we were on the road.
We knew other people had done this, but how they did it was a mystery to us. We tried to get our Chinese visas in Rome and Istanbul from the Chinese Embassies in those countries, but we were told, none too politely, that we had to go home to get them. I even asked a close relative who was an important official at the US Embassy in Beijing try to pull some strings. It didn't work.
Luckily, the Chinese Embassy in Tokyo will give an American a visa. We also found that it would have been simpler for us to get our Chinese visas in Hong Kong, but by the time we found this out, we already had purchased our plane tickets and Hong Kong came after Beijing.

This is an important consideration for the mental health of the group. If the kids are bored, everyone suffers.
Kids aren't impressed by the same kinds of things that adults are. Furthermore you simply can't do something fun every minute or even every day. There were plenty of days where the only goal was to get the laundry done.
To combat boredom we deployed books. For this reason, I wouldn't recommend a trip of this type with children who are not yet good readers.
For an unusual insight into cultures that a typical traveler never sees, we also visited local amusement parks. The irony of a grim-faced Chinese man working the roller coaster wasn't lost on the kids — neither was the smile we finally were able to coerce out of him. The contrast between Wild Wadi Water Park in Dubai versus the water park in Dar es Salaam, Tanzania, was a good catalyst for a lesson on how people are the same, yet different.

More RTW Planning Tips...