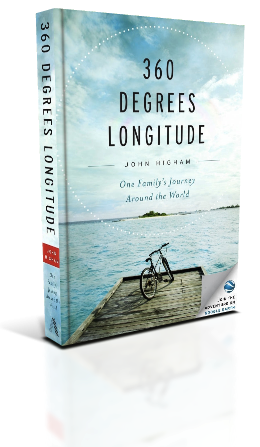 Some places I've traveled to make me feel guilty, just because I go to bed with a full stomach.  I've never been to the Horn of Africa, but I know it definitely qualifies as one of those places that would turn the guilt up to "11."

So, here's your chance to do a little good in the world.  Buy a copy of my book from "Books4ScienceClass" in the Amazon marketplace and I'll donate $5 to USAID's Famine War Drought relief effort.  I'm in for the first 100 people that buys a book.  Heck, I may even extend that to the first 1,000 people.  Do it.  You know you want to.
Today in East Africa, in a region known as the Horn, more than 13.3 million people are in crisis – more than the populations of New York City and Los Angeles combined. The worst drought the world has seen in 60 years is devastating farmlands, uprooting families and killing tens of thousands in four countries: Kenya, Ethiopia, Djibouti and Somalia.
Drought, conflict and famine are forcing people from their homes in search of food and water. In fact, nearly 700,000 Somalis have fled —many walking over 100 miles to refugee camps—in search of food and water. Nearly half of the children arriving at the camps in Kenya and Ethiopia are acutely malnourished; all are in need of emergency assistance.
Drought does not have to lead to famine. Conditions in Kenya, Ethiopia and Djibouti are expected to improve with continued assistance and a good rainy season between now and December. In stark contrast, the crisis in Somalia is especially dire. Decades of inter-tribal and inter-clan war, instability and conflict have led to an outbreak of famine. Unless more humanitarian aid is allowed into southern Somalia, 750,000 people will die there in the coming months.
Famine: A famine occurs when more than three in 10 children are acutely malnourished, when more than two for every 10,000 people die in a day, and when one in five people are unable to access basic foods. The United Nations officially declared famine in Somalia on July 20, 2011. Famine is now prevalent in six areas of southern Somalia, which is controlled by violent militant groups that are blocking aid worker access and life-saving assistance. The Famine Early Warning Systems Networkand the U.N. Food Security and Nutrition Analysis Unit predict that famine will spread in Somalia if aid cannot reach people.
War: Twenty ungoverned years have left the Somali people facing a daily reality of insecurity and conflict. This historic drought has pushed them beyond their capacity to cope, as degradation of agricultural and pastoral livelihoods, high food prices, violence, and control of resources by armed groups prevent millions from obtaining sufficient food and clean water. Even before the drought, over half a million Somalis had been living in refugee camps in the Horn, including in Kenya, where the world's largest refugee camp has been expanding over the past 20 years.
Drought: A severe and extended dry season across the Horn of Africa has withered crops, killed livestock and robbed farmers of any economic opportunity. Agriculture is the main source of income for most in the region, so when a harvest fails or a cow dies, families are left with too little to eat and no way to earn a living.