This website is dedicated to our family's year-long around the world trip, but that is really just one chapter of our story. 
Traveling with our children is all part of a premeditated 20-year experiment in human development.  Before we had children, we learned how traveling can shape one's thinking.  We wanted to give that experience to our children. 
A few moments with the TV is really all one needs to learn how bad things are in the world.  It takes a little more effort, but after you grab your passport and hop on a plane, one usually wonders what all the fuss was about on the 6:00 news.
That's what we're about — finding out about the world we live in first hand. (Watch this video featuring our family)
J

ohn:
  Is a 12 year-old stuck in a middle-aged body and never met a power tool he didn't like; to prove it, he has
converted his basement to a playground
.
He holds 10 US patents for various aspects of satellite operations and control and keeps the mortgage current designing satellites.
If you've ever watched a TV broadcast by satellite, chances are John's work is somewhere in that satellite's DNA.
S

eptember:
  Is the president of the Relief Society, a women's group for our church.  She is also a self-employed database expert who hates databases.
September excels at extracting stories from unsuspecting strangers.  She surreptitiously manipulates members of the family to do her bidding.
If September isn't in front of a computer or taking a sick friend to a doctor's appointment, she is probably baking cookies for the kids and their friends.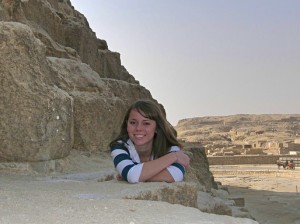 K

atrina:
Is a Senior at Los Altos High School.  Katrina loves to rock climb, explore wild places, and can ride a bike up a hill really, really fast.
She a boy-magnet, but has been known to take her little brother along on dates.  Katrina can obtain virtually anything from her Dad by batting her big brown eyes.
It is genetically impossible for Katrina to say anything bad about anyone or anything, but has an unfortunate taste in music.  Katrina has an awesome poker-face.
J

ordan:
   Is a Freshman at Los Altos High School.  He is active in Boy Scouts and is that close to finishing his Eagle.
Jordan is a consummate chess nerd, but makes up for it with exquisite taste in music.  He quote any line from any movie on-demand, but can't remember seven times eight.
Recently, Jordan fractured his skull from riding his bike kamakazi-style down a steep hill, and has an awesome Harry Potter-shaped scar on his forehead as a cherished keepsake.
Unfortunately, Jordan will never win anything in a poker game.